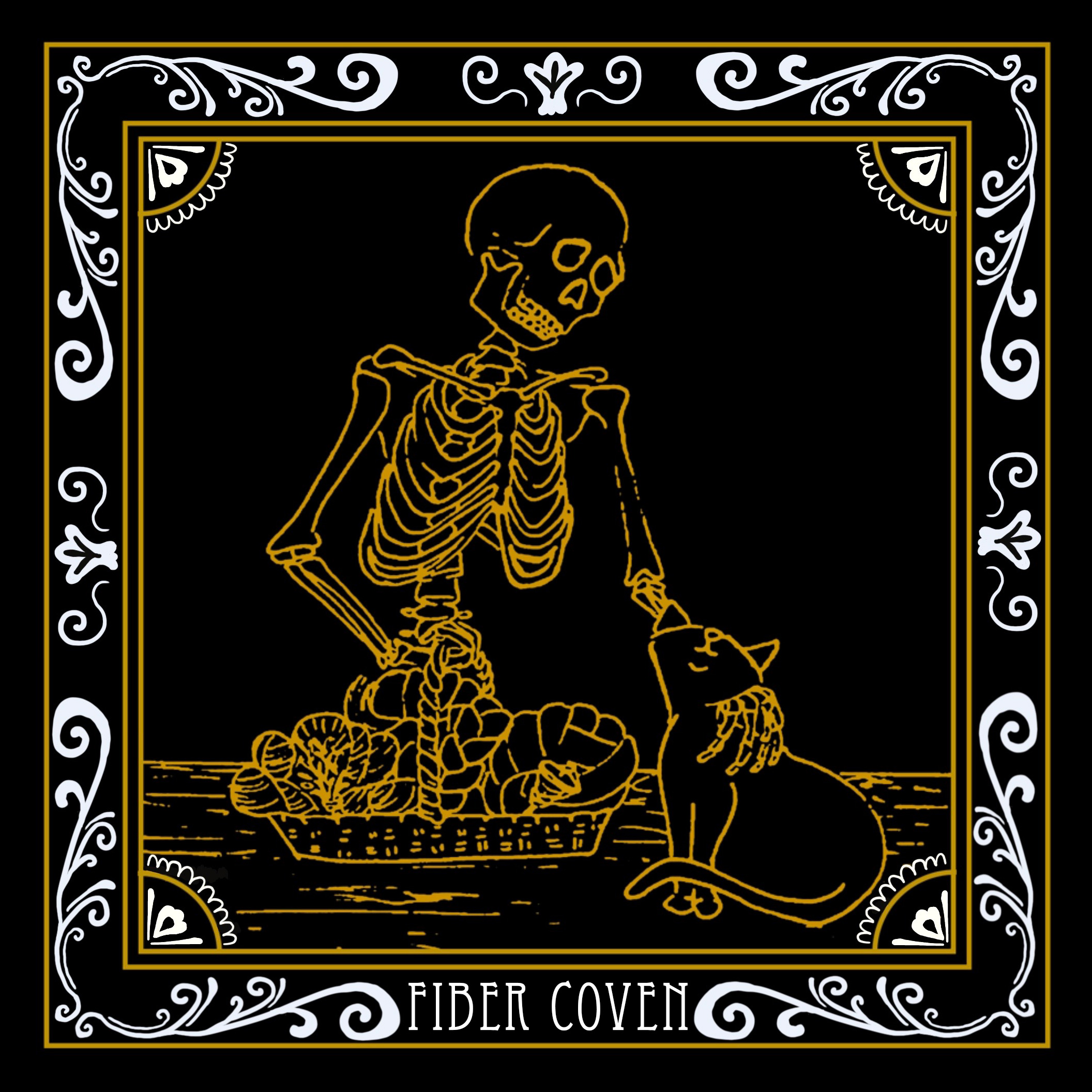 News: The Stripes in Space Shawl MKAL has officially blasted off and will run through the end of July!  See our social media and Patreon posts to lean more!
https://www.ravelry.com/patterns/library/stripes-in-space-mkal
We will have our travel vlog content available for free on the Fiber Coven YouTube channel in the upcoming weeks.
Emily's partner is helping start up the Louisville Jazz Initiative, which is striving to bring both Jazz music education and live Jazz performances to those who normally don't have access to Jazz instruction and/or performances.  If you can help them out financially, they have a matching fund from Churchill Downs so your contribution will automatically be doubled!
http://louisvillejazzinitiative.com/
FO: None!
WIPS:
Emily - Vanilla socks, toe up, in Valkyrie Fibers High Twist BFL, Spearmint Tea and Witch's Brew colorways
- Sock yarn slouchy beanie design in progress using a Storybook Yarn OOAK sock blank in the Jazz colorway http://www.knitsandknotstahoe.com/
Lauren - Vanilla socks, toe up, in handspun Valkyrie Fibers Sock Top fiber base
- Ripple Crop Top by Jessie Maed Designs in handspun https://www.ravelry.com/patterns/library/ripple-crop-top
Acquisitions: We bought too much stuff in the City...
City Lights Booksellers and Publishers - citylights.com
Notes of a Native Son by James Baldwin
Women, Race, and Class by Angela Y. Davis
The Ethics of Opting Out, Queer Theory's Defiant Subjects by Mari Ruti
Witches, Sluts, Feminists, Conjuring the Sex Positive by Kristen J. Sollee
The Occult, Witchcraft, and Magic, an Illustrated History by Christopher Dell
The Birth of BeBop, A Social And Musical History by Scott DeVeaux
Japantown https://www.sfjapantown.org/
https://usa.kinokuniya.com/stores-maido-san-francisco-2f
Maido Stationary and Gifts
Leuchtturm1917 softcover, slim, lined notebook in the Emerald color
Leuchtturm1917 Pen Loop, one in Emerald, Gold, and Purple
Leuchtturm1917 Dotted, hardback notebook in Purple
Baron Fig, Confidant, dot grid, hardcover mini notebook
Tombow N00 and 922 brush markers
Micron PN black pen
Mossery Dotted Notebooks, one in a colorful celestial pattern and one with lunar/fates art
Momiji Iroshizuku ink from Pilot
Emott Ever Fine 0.4, 5 colors No. 7

 

from Mistubishi Pencil Co.
I'm Just Here For The Dumplings sticker
Stickii Club stickers, one peachy penguin sheetand one witchy creatures one
Tiny Tarot deck
Books Kinokuniya
- Ghibli ArtCrystal Jigsaw 126 pieces mini puzzles, one Kiki's Delivery Service, one My Neighbor Totoro, and one Spirited Away one
Various sticker packs
Aggretsuko blind box plushie
HamEgg2 blind box
Sumikkogurashi blind box
Presents from our friend Yelley!
Mini Stickers
Kitty progress keepers
Burt's Bees Cuticle Cream
Loome, mini loom for smol weaves or making tassels
Witchy washi tape
Polvoron treats
Lamy www.lamy.com
Safari, extra fine nib in Pink
Studio, medium nib in Turquoise
Firebird Yarns http://firebirdyarns.com/
Mitchell's Creations, Lagniappe Sock Base, Drunken Unicorn colorway (we got one each and decided that we needed matching PRIDE themed Ripple Bralettes)

www.mitchellscreations.com

Fully Spun mini skein, Sock Fingering base, in The Raven colorway

fullyspun.com
My Favorite https://myfavoritesf.com/
various greeting cards
So many stickers but our favorites are from local Bay Area artis Le Petit Elefant

lepetitelefant.com

Tiny Buffalo Plaid Travel Case
Dim Sum/Chinatown recommendations
Occult Corner: we talk about the book Emily got (Sluts, Witches, Feminists) and talked about the witch archetype and the various portrayals of witchcraft in Star Wars.  Psssst, Jedi are just space wizards...
Shameless Self Promotion:
The pre order listing for Quarter 3 of the Power of the Full Moon Club is now available in Emily's Etsy shop!!! https://www.etsy.com/shop/KittyWithACupcake
The Stripes in Space MKAL is open to pre order in Emily's Ravelry shop https://www.ravelry.com/patterns/library/stripes-in-space-mkal
Or you can email fibercoven@gmail.com to get set up with a PayPal invoice and email delivery of the pattern
Lauren is having a shop update with a bunch of one of a kind sock blanks on Sunday 6/6 at 9am pacific.  https://www.etsy.com/shop/ValkyrieFibersTahoe